Amy Gardner Dean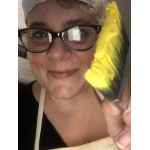 Raised on both a farm in Missouri and a lake in Michigan, Amy Gardner Dean was fascinated with nature from a very early age.  A graduate of Olivet College (MI) with a B.A. in Studio Art, her concentrations were in Medical/Biological Illustration, Painting, and Sculpture.
Self-admittedly a "jack of all trades," Dean has been a practicing studio artist since college but also a radio DJ, veterinary surgical technician, Assistant Manager of a canoe and kayak retailer, a K-5 elementary school art teacher, and an art instructor at a men's federal prison in Butner, NC. Dean has been with Jerry's Artarama (Corporate) since 2008 as the Resident Artist and Product Specialist. From 2017 on, she is also the host of Jerry's Facebook Live—a weekly live show designed exclusively for artists. She shows her own artwork both locally and nationally, through galleries, colleges, and universities.
Dean breeds, shows, and owner handles Great Danes and Pointers under the kennel name Dogma. She is currently completing the last of her requirements for application to the AKC for her judging license for Great Danes, working eventually towards being licensed to judge all breeds.
Amy Gardner Dean
Sorry for the inconvenience.
Search again what you are looking for