Jacqueline Sullivan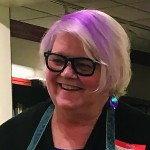 Artist Jacqueline Sullivan expresses her creativity through mixed-media, acrylic, and calligraphic paintings. Her works are unique expressions of adventure and discovery, each piece experimenting with texture, layers, color, unusual materials, calligraphic marks, and words. In addition to technical precision, personal artistic development is intrinsic to her practice.
In addition to her studio practice, Jacqueline is a teaching artist with more than 30 years of experience. Jacqueline has developed and presented many classes at art centers, colleges, guilds, and online at ArtistsNetwork.com. She is a certified GOLDEN Artist Educator, making her a specialist on acrylic products and techniques.  She is known for her multi-discipline workshops given at top art retreats as well as art and calligraphy guilds in the US and Canada. In addition to her running her own workshops, she has also served as faculty for several international calligraphy conferences.
Jacqueline's work has appeared in many publications, including Astarte's Mega-Zine, Cloth Paper Scissors, Pages, and Studio, as well as calligraphic journals. Her work has been published in the book AcrylicWorks 4: Captivating Color the Best of Acrylics. Her bestselling DVD, Acrylics: Textures, Layers, and Metallics, is published by Creative Catalyst Productions is a series of three video art workshops on her most requested studio techniques.
Her widely collected work has been shown in galleries and top-juried art fairs nationwide. In addition to garnishing the walls of collectors and inspiring thousands of students through her teaching, Jacqueline has enriched her painting practice by using her degree in graphic design, working for many years as a publication, marketing, and advertising designer. She paints and lives in Cincinnati, OH. 
http://blog.jacquelinesullivan.com/ 
https://www.facebook.com/jacqueline.sullivan.73
Jacqueline Sullivan
Sorry for the inconvenience.
Search again what you are looking for