David Dunlop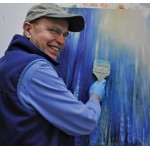 David Allen Dunlop is a modern-day old master whose luminous paintings draw from both Renaissance techniques and contemporary science.  His paintings have been shown internationally and are held in the collections of major corporations including Aetna Insurance, Citibank, Delta Airlines, GE Capital Corporation, IBM, Mobil and more.
David is the engaging host and writer of the 13-show national PBS television series, "Landscapes Through Time with David Dunlop," for which he won an Emmy and a CINE Golden Eagle Award in 2009.  "Landscapes…" is being shown internationally and returned to U.S. national television May 2013.  A second series is in production.  The series are directed by Connie Simmons and produced by SimmonsArt; the first was co-produced by Connecticut Public Television.  David is also the instructor in a multi-DVD series on painting landscapes produced by Connie Simmons/SimmonsArt.
David's work has been reviewed extensively and he has been featured in The New York Times.  Near to home, David has frequently been juried into the prestigious Art of the Northeast USA.  At this competition, in 2007, David and his son Max Dunlop won the Revington Arthur Award, and in 2004, David won the Jens Risom Award.  In 2000, New York City selected David to paint a fiberglass cow for the Cow Parade; it was one of the few selected to be auctioned.
Galleries and institutions have granted David solo shows since 1981.  2014 begins with "New Works," Susan Powell Fine Art, Madison, CT.  2013's solo shows were "Time, Light & Motion," Crossroads Art Center, Richmond, VA; "Return to Gotham," The White Gallery, Lakeville, CT; "Light & Motion," Susan Powell Fine Art and "Light, Reflection, Translucence," Adam Cave Fine Art, Raleigh, NC.  Other 2013 shows include "Nature Dreams in Color," Watershed Gallery, Ridgefield, CT, and "Paintings of OR Waters," Attic Gallery, Portland, OR.  2012 shows were "NYC to CT Shore," Susan Powell Fine Art; "Silvermining," Arroyo, Santa Fe, NM; "Landscapes…," The White Gallery; "Landscapes of OR," Attic Gallery; and "Two New England Painters," Myers Gallery, Athens, GA.  2011's shows included "Metamorphosis," The White Gallery, Great Barrington, MA; "New Directions," Weatherburn Gallery, Naples, FL; "New Terrain," Adam Cave Fine Art; "Radiant," Arroyo; and "New Directions," Susan Powell Fine Art.  2010 shows were "Oil Paintings on 23K Gold Leaf, Aluminum, Steel & Copper," Attic Gallery; "Director's Choice," Silvermine Guild Arts Center, New Canaan, CT; "New Works," Weatherburn Gallery; and "New York City & CT Scenes," Susan Powell Fine Art.
The Metropolitan Museum of Art invited David to lecture on 4000 years of landscape painting in 2005. He has been a visiting artist/lecturer at multiple institutions, including the Montclair Art Museum, Montclair, NJ;  New Britain Museum of American Art, New Britain, CT; Caramoor Museum of Art, Katonah, NY; Shelburne Museum, Shelburne, VT; and Arizona-Sonora Desert Museum, Tucson, AZ. 
David graduated Phi Beta Kappa from the College of Wooster, Wooster, OH, and was honored as a Distinguished Alumnus in 2011.  He earned an MFA from The Pratt Institute, NY, NY.  He is on the faculty of the Silvermine School of Art in New Canaan, CT, where he teaches, lectures, gives workshops and leads groups to Italy, France and Japan.  David lives in Wilton, CT, with his wife, Rebecca Hoefer.
To take David Dunlop's workshops, click on the workshops listed below.
David Dunlop
Sorry for the inconvenience.
Search again what you are looking for