Mike Rooney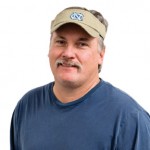 Mike Rooney - prefers painting outside to a comfortable studio. Bugs, bystanders and bad weather are just a few of the inconveniences he endures to capture the colors and nuances of his coastal subjects. He has painted in one form or another since childhood, and was once a sign painter and airbrush artist. Rooney also teaches painting workshops up and down the east coast and in Italy.
Painting in oil, Rooney's subject matter varies, but he loves to show the effect of light on water, boats, and the beach environment from the salt marshes of Cape Cod and rugged coast of Maine, to the mangroves and turquoise waters of Key West. Mike is also a painting instructor teaching up and down the east coast and abroad. He has also filmed several how-to DVD's on painting with brush and painting knives.
His methodology is varied and he never follows a set way of starting a painting. He goes outside to paint, without a preconceived method or formula, approaching each painting differently, experimenting to shake things up a little. He has galleries representing him from Cape Cod to South Florida.
A very flexible schedule is key with plein aire painters. The whole day revolves around the weather and the light. "I want to have the ability to determine my own course in life and to paint the world, as I see it, every single day" says Rooney. "I don't ever want to get locked into a routine that keeps me too busy to paint." he says.
The blurs of color Mike Rooney paints on-site are recognizable as boats, beach houses, and seas and they desire the great outdoors as much as the painter himself.
To take Mike Rooney's workshops, click on the workshops listed below.
Mike Rooney
Sorry for the inconvenience.
Search again what you are looking for